OUR STORY
Bayside Distributing was founded in 1948. Our name originated from the company's first location, in an old mill building on the tidal portion of the Lamprey River in Newmarket, NH. At the time there were at least six companies distributing beer in the seacoast, none with any large market share. Many of the brands Bayside sold in 1948 no longer exist. The building was old, and inefficient, with low ceilings. Cases were unloaded one at a time from tractor trailers since the uneven and sometimes holey wooden floors made use of a forklift impossible.

In the early 70's we moved to Durham. A more efficient building allowed some of the tasks to be streamlined. Forklifts and cement floors made the warehouse job a lot easier. Bayside bought two other small wholesalers and expanded geographically. We also dipped our toes into the soft drink market. We outgrew our Durham location, and in 1985 we moved to Brentwood, a long way from the bay. In our current space we have continued to evolve and to grow. We acquired additional brands, we sold off some unproductive territory, and we realized that our business future was not in the soft drink industry. We expanded our building twice to meet the needs of our growing portfolio and market share. Bayside is now one of two distributors which handle approximately 99% of the beer sold in our territory.

While the brands we sell have come and gone in the over 70 plus years since our founding, and much of our business has become more automated, some things remain the same. Our dedicated sales staff continues to meet face to face with our customers on a weekly basis. Our drivers make deliveries within 24 hours of the sales call, and an actual person answers the phone during business hours. We are focused on providing complete customer satisfaction, serviced by well-trained company personnel, in an environment that recognizes and rewards teamwork and commitment towards our shared goals.

We believe Ben Franklin when he said "Beer is proof that God loves us and wants us to be happy".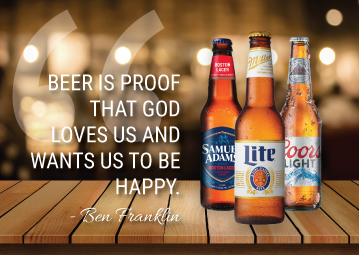 ---
OUR TEAM
Suzanne Kasprzak – Chief Executive Officer
Deb McCaddin – Human Resource Manager
Curt Connelly – VP of Sales & Marketing
Fred Vogel – Chain Supervisor
Chris Dias – Sales Supervisor
Jim Avery – Sales Supervisor
Mike LaBranche – Operations Manager
Questions? Reach out anytime and we'll be happy to help.